QUARTER TURN ELECTRIC VALVE ACTUATORS
C SERIES
These C series designed high efficient models are engineered for operation
either open-close of small size butterfly valves, ball valves and dampers for 90° turn applications.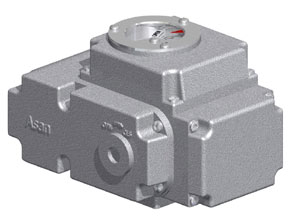 Model

Torque (NW)

Operating Time(sec.)

Motor(W)

Bore Size

Flange ISO5211

C-05

10

30

50

5

15

30

6

¥Õ20

F7
Enclosure : Cast aluminum, IP55
Motor : F Class insulation Induction AC motor
Electric Source : 110/220VAC/1ph, 60/50Hz
Gearing : High efficient spur gear and self locking worm gearing.
Manual Handwheel : When the power is failed, the direct drive handwheel shall be used
for wrench lever.
Position Indicator : Continuous visual indicator.
Position Limit Switches : Open-close limit switches.
Adjustable Stoppers : Mechanical open-close adjustable stoppers